A $70 BILLION DOLLAR US INDUSTRY
The results of a NOAA economic impact assessment show that in 2011, marine angler expenditures contributed an estimated $56 billion in total output impacts, $29 billion in contribution to gross domestic product, $18 billion in income impacts, and supported 364,000 jobs across the United States. Saltwater fishing has a big impact on state economies from Maine to Florida and around the Gulf to Texas.
HOW BIG-MONEY TOURNAMENTS AID CONSERVATION
The White Marlin Open is one of a number of billfish tournaments on the East Coast that awards anglers prize money for landing large billfish. Still, with millions of dollars on the line, the big-money events maintain billfish release rates in excess of 95%. Last summer's White Marlin Open saw 687 (99.8%), of the 695 billfish released. The billfish that are landed and weighed provide valuable information to the marine biologists and other scientists who attend these tournaments to take blood and tissue samples to analyze the individual fish for indications of the overall stock health. Dr. Ann Barse of Salisbury University has been with the WMO for decades while Dr John Graves of VIMS has done the same at the Mid-Atlantic $500,000. Since literally all billfish are released in non-tournament recreational fishing, these events provide the rare chance for the scientists to have the opportunity to study multiple fish of a species.
NO FISH GOES TO WASTE
At the WMO, after the fish are studied, measured and sampled, each fish is cleaned, packaged and donated to Maryland Food Bank.
ATLANTIC BILLFISH TOURNAMENTS
A LIFESAVER FOR BILLFISH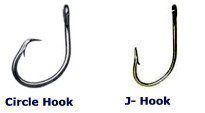 Circle Hooks were mandated for use in Atlantic billfish tournaments by ICCAT in 2008 and the benefits to the post release survival rates were immediate. The recreational anglers quickly adopted its use beyond tournaments and now Circle Hooks are the standard billfishing hooks.
PAYING A PRICE FOR FAILED MANAGEMENT
In 2001, ICCAT reacted to US pressures to lower commercial Atlantic billfish mortality rates by limiting US recreational anglers to a total of 250 white and/or blue marlin landings a year. That same year, ICCAT reported that commercial longliners under their management were responsible for 51,000 white marlin mortalities. The ruling was a blow to US billfishermen and Atlantic billfish. Not because of the 250 billfish landing limit (which has been in effect for 15 years and never reached), but because the mocking response exposed how little value ICCAT placed on Atlantic billfish, US recreational fisheries and its economy. impact . The ruling also reinforced ICCAT's control over Atlantic fisheries management. For US recreational billfishermen, the landing limit was not an important issue because releasing their billfish catch is an automatic reflex. It's remarkable to see that ethic applied even when fishing for big money. The anglers in last summer's White Marlin Open were competing for $4,000,000 in prize money with the bulk of that going to white and blue marlin. You would think the anglers would bring in everything they caught for a shot at big bucks. Not billfishermen. Of the 695 billfish caught during the 2015 event, 687 (99.8%), were released. The same numbers hold for the other big-money billfish tournaments on the East Coast.